Ignoring Children's Rights Leads to Overstated Importance of Religion in Census Data
21 July 2021
The problem of parents and carers marking their own religion down for their children on the census is contributing to the overstatement of religion in Australia.
While few could argue that infants have the ability to decide whether there may be a God or gods, the 2016 census recorded just over 50% of Australians aged 0-4 as having a religious affiliation.
That number rose to just over 60% for children aged 10-14, but then dipped for teens from 15-19.
Just 39% of children aged from 0-4 were recorded as having 'no religion', with the corresponding figure for 10-14 year olds at 30%.
By their early adulthood, when 20-24 year olds are less likely to be living with their parents, less than 50% are identifying as having a religion.
Social researcher Neil Francis, who is a Fellow at the Rationalist Society of Australia, says the reason for these results is simple – religious parents are assigning their own religious beliefs to their children.
His research, published in the Religiosity in Australia report, shows that the rate of religious affiliation for young children mirrors the rate for parents in the peak maternal age for childbirth – 30 to 34 years. (See graph below).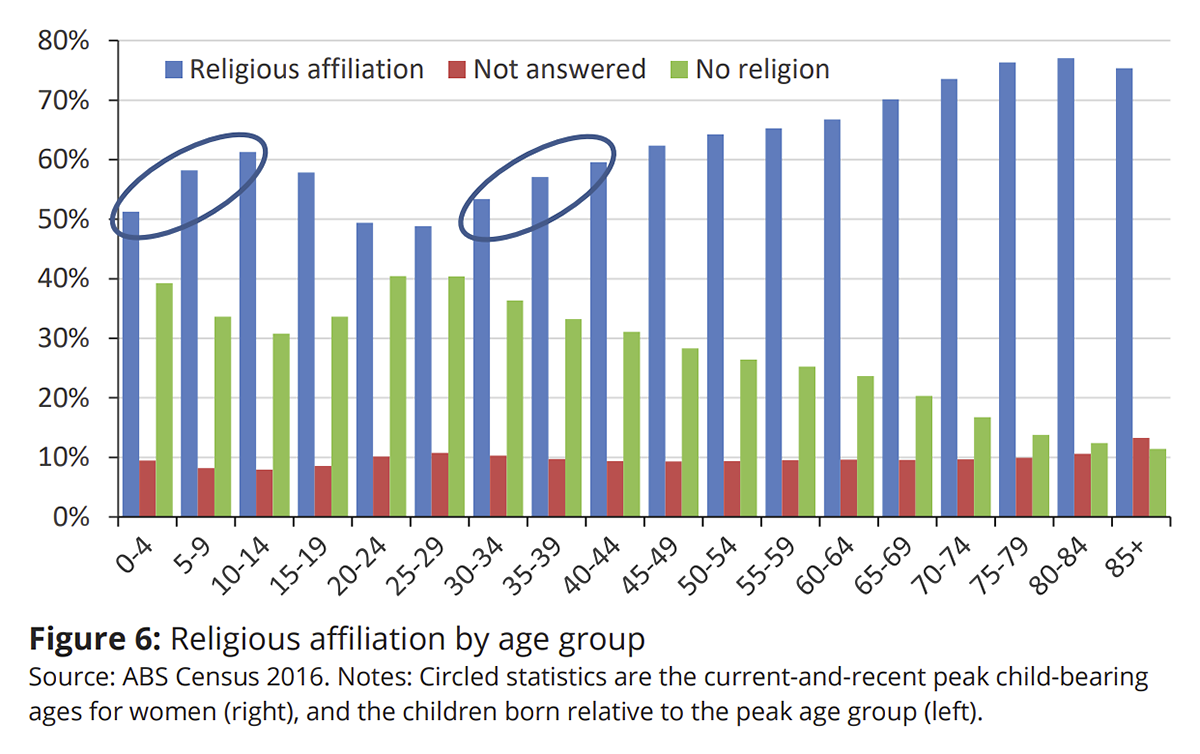 This artificially skews the overall response in favour of religion and contributes to the under-measurement of 'No religion'.
As a result, the census continues to provide an inaccurate measure of religiosity in Australia, says Francis.
"It's quite clear from the census statistics that parents are ticking religion on behalf of their children at the same rate as they tick religion for themselves. So it's really important to reflect the actual religiosity of Australians and that parents ask their children for their view," he says.
"If the child is able to give them some kind of view, then the parent is more or less morally obliged to mark that answer and not their own answer – not to presume to mark an answer for their children without asking."
The right for children to enjoy freedom of thought, conscience and religion is enshrined in the UN Convention on the Rights of the Child (UNCRC), which Australia has ratified.
Article 14 of the UNCRC provides that children have the right to choose their own religion and beliefs. Article 30 provides that children have a right to practise the culture, language and religion of their choosing.
Hear Michael Dove, leader of the Census21 campaign, speak on the topic 'The census and religion: Giving more Australians the freedom to choose' when he presents a webinar for the Rationalist Society of Australia on Wednesday 28 July 2021. To attend, register here.